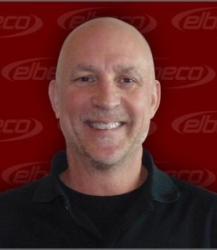 Have you ever wanted to know your Elbeco Rep a little more in-depth? Every month, we will be highlighting one member of the Elbeco Sales Team to help you get to know them a little better. From a look inside their hobbies to what they would be doing if they weren't your Elbeco Rep to the highlight of their workday, we have the answers. Read on to learn more about this month's featured Sales Team Member.
This month, we look at Todd Armstrong, Territory Business Manager - NYC, Long Island, Westchester County and NJ.
Hometown: Glassboro, NJ.
Current Location: Philadelphia, PA.
Family: I have a cat named Victor Hugo.
Education: I graduated from Elizabethtown College in 1984.
Fun Fact: I was a Mayor for 4 years.
3 Words to Describe Yourself: Customer service oriented, diligent, hardworking.
Biggest Influence: My dad. He went through a lot of aversity as a kid and came out to be a wonderful human being.
Hobbies: Camping, biking, traveling.
Sales Experience: I was a General Manager for a business that sold Fire & EMS equipment and uniforms for 11 years. Then I was a Sales Rep for a major law enforcement retailer before coming to Elbeco.
Tenure at Elbeco: November will be 8 years.
Favorite Elbeco Product and Why: It's a tie between the Duty Jacket, Soft Shell and CX360 because they're innovative.
Favorite Part of Working for Elbeco: Interaction with end users.
Biggest Highlight of Workday: Interaction with customers. That's what I love.
Something You Learned About Yourself Through This Role: Never stop learning about our products and our competitor products. That will give you an edge.
If You Weren't Working In This Role, What Would You Be Doing Instead? I would probably still be teaching if I weren't in sales.
What Would You Like to Be Known/Remembered For? A very hard-working person who is very loyal to end users and dealers.
Anything Else You Want To Share? I really enjoy working with our dealers and end users, and the staff in Reading.
Stay tuned for the next edition of this series to see who we highlight next.
TAGGED: Insider