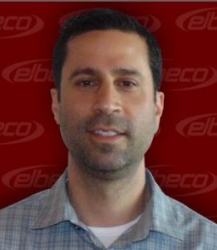 Have you ever wanted to know your Elbeco Rep a little more in-depth? Every month, we will be highlighting one member of the Elbeco Sales Team to help you get to know them a little better. From a look inside their hobbies to what they would be doing if they weren't your Elbeco Rep to the highlight of their workday, we have the answers. Read on to learn more about this month's featured Sales Team Member.
This month, we look at Greg Josephs, Territory Business Manager - MT, ND, SD, MN, WI and IL.
Hometown: St. Paul, MN.
Current Location: Inver Grove Heights, MN.
Family: Only child. Married to wife Tara since Sept. 19, 2019.
Education: University of Southern California.
Fun Fact: Love to watch NFL football.
3 Words to Describe Yourself: Outgoing, social, motivated.
Biggest Influence: My parents.
Hobbies: Waterfowl, upland and turkey hunting.
Sales Experience: 20 years total (insurance, pharmaceutical, public safety (15 years))
Tenure at Elbeco: 10 years on July 18th.
Favorite Elbeco Product and Why: CX360 - it will be a revolutionary fabric.
Favorite Part of Working for Elbeco: Consistency of the product. Customers know what to expect.
Biggest Highlight of Workday: A successful sales presentation.
Something You Learned About Yourself Through This Role: It is possible to cover a large territory and do it well.
If You Weren't Working In This Role, What Would You Be Doing Instead? That's a really good question.
What Would You Like to Be Known/Remembered For? A good son to my parents, loving husband to my wife, and father my kids want to emulate.
Anything Else You Want To Share? My wife Tara is pregnant with twins.
Stay tuned for the next edition of this series to see who we highlight next.
TAGGED: Insider