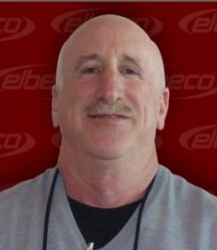 Have you ever wanted to know your Elbeco Rep a little more in-depth? Every month, we will be highlighting one member of the Elbeco Sales Team to help you get to know them a little better. From a look inside their hobbies to what they would be doing if they weren't your Elbeco Rep to the highlight of their workday, we have the answers. Read on to learn more about this month's featured Sales Team Member.
This month, we look at David Rosenblum, Territory Business Manager - DC, MD, DE, VA, NC, SC and WV.
Hometown: New Jersey.
Current Location: Maryland.
Family: Married for 43 years to my best friend who I've known since we were 12. 2 incredible sons and daughter-in-laws. 4 beautiful grandchildren, 2 boys on the East Coast and 2 girls on the West Coast.
Education: A few years of college.
Fun Fact: I love playing poker with my buddies.
3 Words to Describe Yourself: Loving, kind, detail-oriented.
Biggest Influence: Mary Lou Seiders (she was the VP of Sales when I started with Elbeco).
Hobbies: Golf, softball, baseball, poker.
Sales Experience: 45 years.
Tenure at Elbeco: 33 years.
Favorite Elbeco Product and Why: Soft shell jackets. Perfect jacket as they are waterproof and breathable with great features.
Favorite Part of Working for Elbeco: Meeting new people and seeing all of the contacts/friends I have made over the years.
Biggest Highlight of Workday: Showing and explaining our products.
Something You Learned About Yourself Through This Role: You have to have patience in this business.
If You Weren't Working In This Role, What Would You Be Doing Instead? Teaching and coaching.
What Would You Like to Be Known/Remembered For? I was a kind and giving person who would do what I could for my fellow man.
Anything Else You Want To Share? It's been a good ride so far and want to keep it going for a while.
Stay tuned for the next edition of this series to see who we highlight next.
TAGGED: Insider