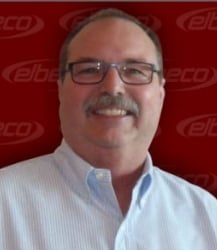 Have you ever wanted to know your Elbeco Rep a little more in-depth? Every month, we will be highlighting one member of the Elbeco Sales Team to help you get to know them a little better. From a look inside their hobbies to what they would be doing if they weren't your Elbeco Rep to the highlight of their workday, we have the answers. Read on to learn more about this month's featured Sales Team Member.
This month, we look at Alan Sprunk, Territory Business Manager - MI, IN, OH and KY.
Hometown: Blissfield, Michigan.
Current Location: Holland, Ohio (suburb of Toledo).
Family: I am married to my lovely wife Elizabeth, and we just celebrated our 40th wedding anniversary. Liz is the Dean of Nursing at Mercy College in Toledo. We are empty nesters, but we have two children - Michael and Katie who live in the Toledo area. Katie and her husband Stephen are going to make us first time grandparents right around Thanksgiving time! We also have a dog named Duffy who rescued us about 3 years ago!
Education: B.A. Marketing - Michigan State University (attended on an Evans Scholarship).
Fun Fact: I have played golf with Tom Izzo twice, had dinner at Nick Saban's house, caddied for Ara Parseghian a few times and spent 3 hours in the car with Woody Hayes driving him home from a speaking engagement. I have also had five hole-in-ones! I'm a Director and past Board Member for the Western Golf Association/Evans Scholars Foundation.
3 Words to Describe Yourself: Philanthropic, detail-oriented, and reliable.
Biggest Influence: Besides my mother and my brothers, former Elbeco VP of Sales - Mary Lou Seiders!
Hobbies: Love traveling...especially to waterfront locations. Organizing golf outings and fundraisers. Volunteering for Evans Scholars Foundations.
Sales Experience: I have been in sales my entire life. After college, I worked three years at Leo Meyers (uniform retailer in Columbus, OH) before joining Elbeco. Also had 1 year with Red Kap in the middle of my Elbeco era.
Tenure at Elbeco: 39 years and still having fun!
Favorite Elbeco Product and Why: Tex-Trop was my first love, but the new CX360 package is fantastic. I may be a little biased, but these new pants are the most comfortable pants I have ever had! I also love the Shield jackets! "Magnets are magic!"
Favorite Part of Working for Elbeco: I really enjoy closing deals and getting orders, but probably the favorite part is the relationships I have been able to build with customers, agencies, and co-workers!
Biggest Highlight of Workday: Meeting and talking with people and educating them on our products. Writing orders!
Something You Learned About Yourself Through This Role: If you work hard...good things will happen. Ultimately, you must answer to yourself. You learn more by listening than by talking.
If You Weren't Working In This Role, What Would You Be Doing Instead? Since I can't play golf 5 days a week, I would probably be a fund & friendraiser for a charitable organization that is close to my heart!
What Would You Like to Be Known/Remembered For? Being a loving husband, a good father, and a loyal friend. The strong personal and business friendships that I have enjoyed over the years.
Anything Else You Want To Share? Remind your family every day that you love them, with the things that you say and the things that you do. GO GREEN! (Michigan State University Spartans)
Stay tuned for the next edition of this series to see who we highlight next.
TAGGED: Insider