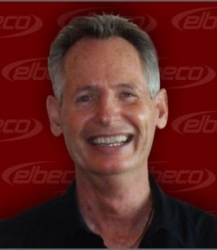 Have you ever wanted to know your Elbeco Rep a little more in-depth? Every month, we will be highlighting one member of the Elbeco Sales Team to help you get to know them a little better. From a look inside their hobbies to what they would be doing if they weren't your Elbeco Rep to the highlight of their workday, we have the answers. Read on to learn more about this month's featured Sales Team Member.
This month, we look at Ray Evans, Territory Business Manager - AL, FL and GA.
Hometown: Louisiana. Born in East Carroll Parish in Northeast corner of the state on the Mississippi River (a Louisiana stump-jumper). That's where I get my southern draw.
Current Location: South Florida in metro Fort Lauderdale area.
Family: I'm one of 12 children, #11. 8 boys, 4 girls. There's me and my wife Sandy and my son Brandon.
Education: Went to college at Northeast Louisiana. It's now called University of Louisiana Monroe.
Fun Fact: My real name is Oliver.
3 Words to Describe Yourself: Dedicated, determined, outgoing.
Biggest Influence: My biggest influence would have to be my mother. Amazing woman that raised 12 kids and kept all of us out of any serious troubles HAHA!
Hobbies: I love the outdoors. Love hiking, fishing. We hike anywhere we can.
Sales Experience: In the industry for 28 years.
Tenure at Elbeco: Around 21 years.
Favorite Elbeco Product and Why: It's discontinued now, but the Ufx Base Layer. It was a beast of a fabric that I have hiked in for days. The antimicrobial/moisture wicking/UV properties are great.
Favorite Part of Working for Elbeco: The relationship that you build with the end user and dealer.
Biggest Highlight of Workday: Knowing the customer is happy with me and the product.
Something You Learned About Yourself Through This Role: That I hate to lose more than I like to win.
If You Weren't Working In This Role, What Would You Be Doing Instead? I'd probably be in the medical industry.
What Would You Like to Be Known/Remembered For? A good father, a good husband and a good son.
Stay tuned for the next edition of this series to see who we highlight next.
TAGGED: Insider