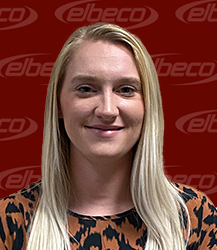 Have you ever wanted to know your Elbeco Rep a little more in-depth? Every month, we will be highlighting one member of the Elbeco Sales Team to help you get to know them a little better. From a look inside their hobbies to what they would be doing if they weren't your Elbeco Rep to the highlight of their workday, we have the answers. Read on to learn more about this month's featured Sales Team Member.
This month, we look at Rainey Carville, Sales Representative - TX and LA.
Hometown: Baton Rouge, Louisiana.
Current Location: Lafayette, Louisiana.
Family: My parents have been together for over 40 years. I have 3 older brothers. I'm the youngest of 4, the only girl. I have one dog. His name is Titus, he's 8. I have a son, he's 4. My favorite holiday is Christmas.
Education: I graduated from St. Michael the Archangel High School in 2012. For college I went to the University of Louisiana at Lafayette and got my Bachelor's in Business. I graduated in May of 2019.
Fun Fact: I like to work out. I have a lot of hobbies and extracurriculars.
3 Words to Describe Yourself: Outgoing, nice, driven.
Biggest Influence: My brothers.
Hobbies: I play a lot of beach volleyball. Extracurricular sports. Flag football. Work out. I play tennis. I like to read.
Sales Experience: I've been at Colonial Life since May of 2019, first as a Sales Rep then as an Agency Development Manager.
Tenure at Elbeco: I have worked for Elbeco for 3 months.
Favorite Elbeco Product and Why: My favorite product is the Ufx Polo because it sells itself.
Favorite Part of Working for Elbeco: My favorite part about working for Elbeco is all the traveling I get to do!
Biggest Highlight of Workday: Getting out into the field and meeting new people.
Something You Learned About Yourself Through This Role: I've learned that I love making new connections with people.
If You Weren't Working In This Role, What Would You Be Doing Instead? I would like to think I would be in some sort of sales position.
What Would You Like to Be Known/Remembered For? Being a go getter.
Stay tuned for the next edition of this series to see who we highlight next.
TAGGED: Insider