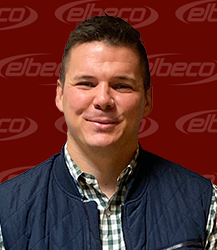 Have you ever wanted to know your Elbeco Rep a little more in-depth? Every month, we will be highlighting one member of the Elbeco Sales Team to help you get to know them a little better. From a look inside their hobbies to what they would be doing if they weren't your Elbeco Rep to the highlight of their workday, we have the answers. Read on to learn more about this month's featured Sales Team Member.
This month, we look at Justin Ryan, Strategic Account Manager - Mid West/Northeast.
Hometown: Apple Valley, MN.
Current Location: Lakeville, MN.
Family: Married for 6 years to my wife Rea. We have two sons, Declan and Finnegan. Declan is 4 and Finny is 2.
Education: I graduated from Minnesota State University, Mankato with a degree in communications.
Fun Fact: Played college lacrosse.
3 Words to Describe Yourself: Determined, hardworking, dad.
Biggest Influence: My dad who was a police officer for 33 years.
Hobbies: I like sports, specifically the Chicago Bears and Notre Dame Fighting Irish. I like traveling and experiencing new places. A bit of a foodie. Mostly just being with family and friends.
Sales Experience: I've been in the Public Safety Sales industry for 10 years.
Tenure at Elbeco: I have been with Elbeco for 3 months now.
Favorite Elbeco Product and Why: Shield Jacket because you can wear it pretty much all year long except for summer. Light enough to wear all through spring and fall but also heavy enough to keep you warm in winter. I wear it while I'm shoveling snow in Minnesota.
Favorite Part of Working for Elbeco: My favorite part is the customers that we serve. Having both a father and a brother in law enforcement makes servicing the Public Safety community the favorite part of my day. I also love the culture here and the co-workers I get to collaborate with.
Biggest Highlight of Workday: My workday is never the same. I like that it changes every single day and I am doing something new or working with different customers from all over the country every day.
Something You Learned About Yourself Through This Role: That I enjoy the sales process but also want to continue my development here and move into a leadership position. I would like to make my career here at Elbeco.
If You Weren't Working In This Role, What Would You Be Doing Instead? I wouldn't mind being a pilot. I love to travel and that would be the best way to see new places.
What Would You Like to Be Known/Remembered For? Being a good dad.
Stay tuned for the next edition of this series to see who we highlight next.
TAGGED: Insider