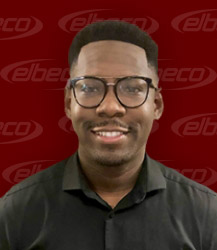 Have you ever wanted to know your Elbeco Rep a little more in-depth? Every month, we will be highlighting one member of the Elbeco Sales Team to help you get to know them a little better. From a look inside their hobbies to what they would be doing if they weren't your Elbeco Rep to the highlight of their workday, we have the answers. Read on to learn more about this month's featured Sales Team Member.
This month, we look at Josh Evans, Territory Business Manager - PA and NY.
Hometown: Born and raised in Panama City, Panama.
Current Location: Reading, PA.
Family: The most important thing to me is my mom and my sister. They're my motivation, the majority of my purpose in life. I owe a lot of my success to both of those ladies. Through my mom's hard work and patience, I was able to grow up to be the best possible version of myself that I can be. I also have a 2-year-old Coonhound named Diego. We're best friends.
Education: The most recently completed was Penn State Berks in Berks County, PA. For high school, I went to Reading High School. Prior to that was all in Panama City.
Fun Fact: Spanish is my first language. I love wine. I drink a bottle of wine a day, white wine more than red right now because I'm trying to keep my teeth white.
3 Words to Describe Yourself: God-fearing man.
Biggest Influence: My grandfather. As a young man he showed me nothing was given, my work ethic, my morals, and just how to treat people. My grandfather was huge for me.
Hobbies: Motivational speaking and getting a chance to talk to my peers, kids my age. I don't play soccer anymore, but I just picked up golf. I like golf. I love to play with Diego. He's a rock star in my community.
Sales Experience: 9 years. I started at Men's Warehouse as a Sales Associate.
Tenure at Elbeco: Just over a year, a year and four months. This was my first complete year.
Favorite Elbeco Product and Why: I'm a dressy guy, so DutyMaxx. I love our DutyMaxx fabric. That fabric to me has a smooth, quality feel with the incorporation of Nano Fluid Technology which is part of our uniforms for the future, which, to me, is amazing.
Favorite Part of Working for Elbeco: Best part for me is how close we are. The sense of unity and how we share the same visions of where we're going as a team is amazing. Elbeco is a company of values and morals and prides itself on our customer service above anything else. That, to me, is one of the most important things because it resembles not only my business relationship but my customer service relationship as well with how you treat someone.
Biggest Highlight of Workday: Being in front of the customer, bringing value and knowledge about our products and bringing solutions. That's why I do what I do.
Something You Learned About Yourself Through This Role: Integrity is the most important thing. Being reliable and accountable for not only yourself but your team as a representative of the brand is the most important thing in the industry.
If You Weren't Working In This Role, What Would You Be Doing Instead? I'd be a starting quarterback for the Dallas Cowboys.
What Would You Like to Be Known/Remembered For? My legacy. It has to speak to on everything that it can to see the growth of those surrounding me. Whether financial, wisdom, spending time with my loved ones, I want to be remembered as a caring individual. I don't want to be remembered as a successful individual.
Anything Else You Want To Share? One of the things I would love to see more of is an increase in acceptance of perspective in life. More listening, more understanding, less hatred. I'd like to see more unity than the division we're currently in. I think we all lose when we try to do things by ourselves but if we come together and exploit every single strength of every single individual that we come across, we can make this Earth a better place. And that's our purpose in life - to make Earth a better place than how you found it.
Stay tuned for the next edition of this series to see who we highlight next.
TAGGED: Insider