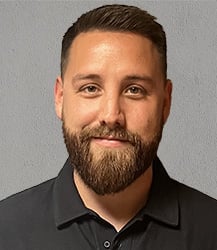 Have you ever wanted to know your Elbeco Rep a little more in-depth? Every month, we will be highlighting one member of the Elbeco Sales Team to help you get to know them a little better. From a look inside their hobbies to what they would be doing if they weren't your Elbeco Rep to the highlight of their workday, we have the answers. Read on to learn more about this month's featured Sales Team Member.
This month, we look at Cory Daza, Distribution Sales Manager - Southeast.
Hometown: East Lansing, MI. Technically I was born in El Centro, CA.
Current Location: Vero Beach, FL.
Family: I come from a small family. My mother and father are in Florida. I have an adopted brother and sister as well as a half-brother.
Education: Michigan State University. Bachelor's Degree.
Fun Fact: I work weekends as a part time Police Officer for a small beach town in Florida.
3 Words to Describe Yourself: Loving, honest, driven.
Biggest Influence: My mother. She's always right even when I don't want her to be.
Hobbies: Traveling, cars, technology and visiting friends in other states.
Sales Experience: I've been selling public safety apparel and equipment for over 3 years both on the distributor and manufacturer side.
Tenure at Elbeco: 3 months.
Favorite Elbeco Product and Why: SHIELD Performance Soft Shell in O.D. Green. I love the way it looks and I enjoy opening and closing our magnetic pocket flaps. Our Ufx Polo is also the gold standard in the industry which makes it hard to not like.
Favorite Part of Working for Elbeco: I love working with our end users and delivering them a quality product.
Biggest Highlight of Workday: I enjoy the collaboration with my team and getting to work with them every day. I also enjoy anytime we get a win or a first down as a team.
Something You Learned About Yourself Through This Role: I have learned that I knew very little about textiles and uniforms prior to accepting this role.
If You Weren't Working In This Role, What Would You Be Doing Instead? I would probably be in Law Enforcement, or another sales position related to Law Enforcement.
What Would You Like to Be Known/Remembered For? Being a personable individual.
Stay tuned for the next edition of this series to see who we highlight next.
TAGGED: Insider