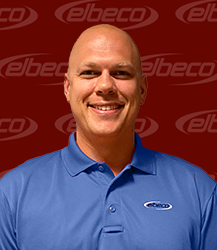 Have you ever wanted to know your Elbeco Rep a little more in-depth? Every month, we will be highlighting one member of the Elbeco Sales Team to help you get to know them a little better. From a look inside their hobbies to what they would be doing if they weren't your Elbeco Rep to the highlight of their workday, we have the answers. Read on to learn more about this month's featured Sales Team Member.
This month, we look at Bob Helmer, Territory Business Manager - AK, WA, OR, ID and NorCal.
Hometown: Roseville, CA.
Current Location: Roseville, CA.
Family: Single dad with a 3-year-old beautiful daughter, her name is Savannah. She's a little sweetheart.
Education: I went to Arizona State, graduated in 2011 with a bachelor's in business.
Fun Fact: I like to build Lego.
3 Words to Describe Yourself: Outgoing, honest, caring.
Biggest Influence: My dad Doug who was in the industry for 42 years.
Hobbies: Spending time with my daughter, hiking, Legos.
Sales Experience: I started in the industry in 2011 with Quartermaster, then went to Galls. I worked for a retailer for 6 months and then I was with Fechheimer for 6.5 years.
Tenure at Elbeco: 2 months.
Favorite Elbeco Product and Why: CX360 because it is inexpensive, won't wrinkle, shrink or fade but still breathes and stretches.
Favorite Part of Working for Elbeco: The culture - it is a very positive atmosphere and there is great teamwork.
Biggest Highlight of Workday: When I have been able to land new business.
Something You Learned About Yourself Through This Role: I am valued as an employee and person.
If You Weren't Working In This Role, What Would You Be Doing Instead? I have no clue.
What Would You Like to Be Known/Remembered For? Always staying positive and going the extra mile.
Stay tuned for the next edition of this series to see who we highlight next.
TAGGED: Insider