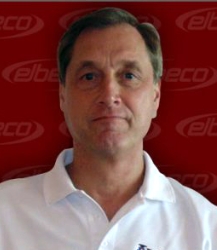 Have you ever wanted to know your Elbeco Rep a little more in-depth? Every month, we will be highlighting one member of the Elbeco Sales Team to help you get to know them a little better. From a look inside their hobbies to what they would be doing if they weren't your Elbeco Rep to the highlight of their workday, we have the answers. Read on to learn more about this month's featured Sales Team Member.
This month, we look at Bob Dragicevich, Director of Sales.
Hometown: I was born in Cincinnati, Ohio and grew up in Northern Minnesota.
Current Location: Ivanhoe, Illinois.
Family: My wife Anna and I have been married for 36 years and are now "empty nesters." We have a daughter Diana and sons Bobby and Alex. Anna and I have two grandchildren, Max and Zora, and are eagerly expecting our third grandchild.
Education: University of Minnesota Duluth/University of Minnesota.
Fun Fact: I enjoy playing golf and I've had three "aces" in the last two years. There is an argument to be made that it's better to be lucky than good.
3 Words to Describe Yourself: Competitive, Compassionate, Impatient (still working on that one).
Biggest Influence: My parents. Following the second World War, they immigrated to the United States from war torn Eastern Europe. They taught me the values of family, integrity, and compassion and never let me forget how fortunate I was to have been born in America.
Hobbies: Golf and Hiking.
Sales Experience: 22 Years in sales.
Tenure at Elbeco: I've had two stints with Elbeco that total nearly thirteen years.
Favorite Elbeco Product and Why: Our new updated Ufx polo. It's still the best in the industry and has been since we introduced it back in 2007. Not far behind, however, is the new poly stretch CX360. This may very well become the industry gold standard for the everyday patrol uniform.
Favorite Part of Working for Elbeco: The people. There is a unique Elbeco culture of teamwork that is hard to explain. Without question we all pitch in when we need to. We've been able to hire and retain quality people. The folks that work at corporate, the distribution center, and those in the field are among some of the finest individuals I've ever met.
Biggest Highlight of Workday: When a Sales Rep or Territory Business Manager calls me to share a success story or what we call a "closed/won opportunity." I love that.
Something You Learned About Yourself Through This Role: I now have a more balanced approach to this role than when I first started. The mercurial nature of sales can wear on you and as a manager I'm now better at taking the "hits" than in my early years. I took the field losses very personally, but I've learned to realistically manage the ebbs and flows, and I now understand that each high and each low are all part of the sales process. And thankfully, because of the quality of our product offering, our unparalleled ability to stock and deliver and having the very best team (sales, corporate, and warehouse) in the industry, the wins far outweigh the "hits" or losses.
If You Weren't Working In This Role, What Would You Be Doing Instead? I'd be a scratch golfer and/or hiking somewhere in the mountains.
What Would You Like to Be Known/Remembered For? Most importantly, I would hope that I'm remembered as a good husband and a good father, but I also hope that those whom I've met along the way would remember me as a good guy who worked hard, loved his family, and tried to make a difference where he could.
Anything Else You Want To Share? Yes, I'd also like to thank Mr. Lurio for hiring me all those years ago.
Stay tuned for the next edition of this series to see who we highlight next.
TAGGED: Insider