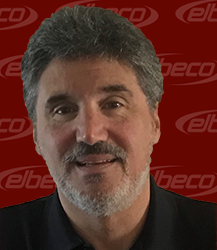 Have you ever wanted to know your Elbeco Rep a little more in-depth? Every month, we will be highlighting one member of the Elbeco Sales Team to help you get to know them a little better. From a look inside their hobbies to what they would be doing if they weren't your Elbeco Rep to the highlight of their workday, we have the answers. Read on to learn more about this month's featured Sales Team Member.
This month, we look at our newest member, Steve Tassinari, Territory Business Manager - MA, CT, RI, NH, VT and ME, who recently returned to Elbeco.
Hometown: Springfield, Massachusetts. The birthplace of basketball!
Current Location: Rhode Island.
Family: Married for 30+ years. 1 son, 28, an electrician. 2 cats.
Education: BS Environmental Management.
Fun Fact: Passionate sports fan of Red Sox, Patriots, Bruins, and Celtics.
3 Words to Describe Yourself: Passionate, energetic, loyal.
Biggest Influence: My dad, he's where I get my work ethic from.
Hobbies: Sports, golf, collecting sports memorabilia.
Sales Experience: Started in sales with a pest control company managing large national accounts. Followed by a sales territory manager position with Elbeco from 2001-2009.
Tenure at Elbeco: 8 going on 9 years.
Favorite Elbeco Product and Why: Initially, TexTrop during my first run with the company because Nano Technology was a gamebreaker in the industry. Now, the Ufx Polos because they're the #1 polo in the marketplace.
Favorite Part of Working for Elbeco: Strong allegiance among sales group and management. Great job of meshing the two. It makes you feel like a team (like my love of sports). There's a mix of youth and veterans.
Biggest Highlight of Workday: Having a successful appointment. Going into it with the thought of a best fit for the agency and leaving knowing you were 100% correct, ultimately leading to the sale.
Something You Learned About Yourself Through This Role: In order to be successful, you must have patience. Something I've developed. It's difficult because you're looking for instant gratification but have to understand that the End User needs to determine what's the best solution for them also.
If You Weren't Working In This Role, What Would You Be Doing Instead? I've always been intrigued with what marketing departments do. I think when I retire in Florida, sports marketing may be in my future.
What Would You Like to Be Known/Remembered For? A loyal friend.
Anything Else You Want To Share? Treat every day like a new adventure. It is some tough times right now. It's important to realize there's a light at the end of the tunnel. Everything doesn't need to be negative. Always maintain a positive upbeat attitude.
Stay tuned for the next edition of this series to see who we highlight next.
TAGGED: Insider