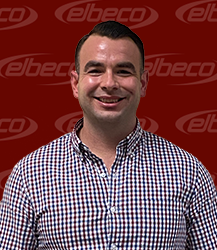 Have you ever wanted to know your Elbeco Rep a little more in-depth? Every month, we will be highlighting one member of the Elbeco Sales Team to help you get to know them a little better. From a look inside their hobbies to what they would be doing if they weren't your Elbeco Rep to the highlight of their workday, we have the answers. Read on to learn more about this month's featured Sales Team Member.
This month, we look at Joe Sondag, Territory Business Manager - AR, IA, KS, MO, MS, NE, and TN, who recently joined Elbeco.
Hometown: St. Louis, MO.
Current Location: St. Louis, MO.
Family: I'm married. I have twins, a boy and a girl.
Education: I went to DePaul University in Chicago. I played Division I soccer there. Got a degree in Business Marketing. I spent 10.5 years in the Law Enforcement community. I was on the SWAT team from 2016-2019, and my last two years were spent with the FBI-Violent Gang Safe Street Task Force.
Fun Fact: My college soccer team won a Big East regular season title in 2007.
3 Words to Describe Yourself: Hardworking, team-oriented and family-oriented.
Biggest Influence: My Family.
Hobbies: I enjoy exercising. Sports, the St. Louis Blues, the hockey team. Even being outside doing stuff outdoors. I like traveling and going to the beach.
Sales Experience: Aside from my degree, no experience.
Tenure at Elbeco: About one month.
Favorite Elbeco Product and Why: DutyMaxx. I spent a majority of my professional career wearing the DutyMaxx top. It's durable. It just always felt like a durable uniform. In all different kinds of different temperatures, hot and cold, I always felt like I was comfortable in it.
Favorite Part of Working for Elbeco: It still allows me to be connected to the law enforcement/first responder community.
Biggest Highlight of Workday: Being able to interact with people. All kinds of people from different walks of life. Bringing together the common theme of Elbeco.
Something You Learned About Yourself Through This Role: I feel very humbled through the whole process. I was able to offer a different perspective since I came from the law enforcement industry.
If You Weren't Working In This Role, What Would You Be Doing Instead? I would still be in law enforcement.
What Would You Like to Be Known/Remembered For? I just would like everyone I had the opportunity to work with to think of me as a good and reliable person. The same in life. Provide a quality life for my family and be a good person. That's what I try to do.
Anything Else You Want To Share? I think 2021 is going to bring a lot of opportunity for the people who didn't get a chance to have it in 2020.
Stay tuned for the next edition of this series to see who we highlight next.
TAGGED: Insider